Xinjinmeng's 8-Bit Font Pack
A downloadable asset pack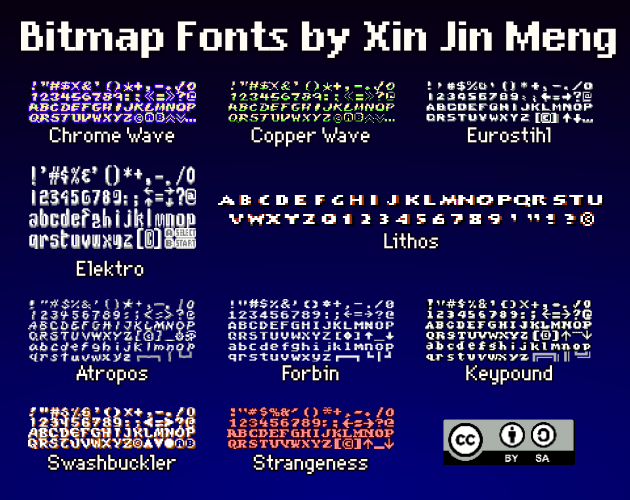 Here are fonts that I made during "8-Bituary", the pixel-art month.
You are free to use these fonts for your own project as long you as you give credit to me, Xin Jin Meng. 🙂
All of these fonts are 8x8 pixels except for "Elektro", which is 8x16.
Each font uses only 3 colors, adhering to the NES/Famicom standard.
Download
Click download now to get access to the following files:
Chrome Wave font.png
9 kB
Copper Wave font.png
2 kB
Strangeness font.png
4 kB
Swashbuckler font.png
7 kB
Fonts as GIFs with frames.zip
18 kB
Comments
Log in with itch.io to leave a comment.
Looks nice! Definitely gonna be using this for my next game!

Those are some nice looking fonts, Xin Jin Meng! Thank you for making them and sharing them with the world!